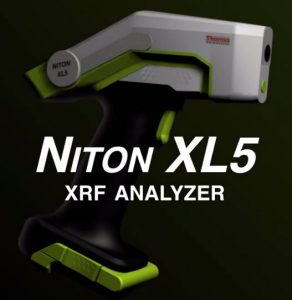 Niton XL5 Handheld XRF Analyzer  description
Thermo Fisher Scientific Niton XL5 XRF analyzer is the lightest, compact, and most powerful hand-picked XRF analyzer available for elemental determination. It offers supreme speed, performance, and productivity which is not often seen in XRF analyzers. It is designed to provide advanced analytical performance and expand the fields use and boost productivity. Specifically used where the low limits of detection (LODs) and high sample throughput are critical. Performs positive material identification (PMI) to analyze piping material, where flow accelerated corrosion or sulfidic corrosion is an important thing.
The Thermo Scientific™ Niton™ XL5 handheld XRF analyzer identifies alloys, detects tramp elements, delivers geochemical data, analyzes precious metals, and determines coating weight and plating thickness. Powered by a proprietary 5W x-ray tube, the Niton XL5 analyzer optimizes the geometry between the x-ray source, fluorescence detector and sample. Replaces the 950 Goldd.
With its ability to scan a broad range of materials, here is a list of what makes a Niton XL5 Handheld XRF Analyzer is a champion in real-life industrial environments:
Has 5W X-Ray Tube
The PLADD (Proprietary Large Area Drift Detector) when it comes to light elements. The light elements include Mg, AI, Si, P, S, and more
Its lightness and its rugged, ergonomic design
Its miniaturised nose
Its wifi-enabled connection (with the help of a USB and Bluetooth communication tools.)
Its two cameras (one is a micro, and another is a macro)
Its hot-swap battery
It's tilting, color touch-screen display
Other two things that give additional benefits to this tool are that it is password protected and certified with IP54. IP54-certified means that it is dust-proof and safe from any splash of liquid.
The Niton XL5 Handheld XRF Analyzer is applied with:
The non-destructive field of inspections for PMI (positive metal identification).
The point-and-shoot simplicity, even for anyone who is non-technical personnel. This helps them with scrap recycling business.
Thick layers of measurements for single or binary layers of metal.
Precious metal assay for specific materials, like jewelry and bullion.
The real-time, geochemical analysis. With enabled wifi connection, this type of analysis helps you to get the most accurate results from mining exploration – right now.
The on-site heavy metal screening. This is for screening polluted soils caused by metal or other potentially hazardous materials.
Custom-made demands. This means you can have Niton XL5 Handheld XRF Analyzer based on the specifics that you need.
Niton XL5 Handheld XRF Analyzer features include auto-calibration, easy trigger, miniature nose, dustproof housing, splash resistant, Bluetooth connectivity, Wi-Fi enabled connection, tilting color touchscreen, directional keypad, ergonomic grip, 16 GB storage, dynamically adjustable current for optimal sensitivity on every analysis, large area drift detector, Mg to U element analytical range, built-in standardization via automatic system check, IP54 rating, integrated CCD macro, and micro camera, approx. 130,000 readings data storage with spectra and password protected user security. Used to verify the composition of piping, valves, and reaction vessels in seconds, with the lowest LODs available. Inspect and analyze every single component materials at receiving the inspection, in-process welding or fabrication and final inspection checkpoints.
Specifications include multiple calibration modes for various applications include general metal mode, coating mode, precious metal mode, mining mode, soil mode, consumer goods mode. Consists of a touchscreen keyboard, user-customizable and optional wireless remote barcode reader for the data entry. Integrated cameras are used to capture overview images, tagging measurement locations, locating and recording measurement positions.
SPECIFICATION OVERVIEW:
Auto-calibration
Easy trigger
Miniature nose
Dustproof housing
Splash resistant
Bluetooth connectivity
Wi-Fi enabled connection
Tilting color touchscreen
Directional keypad
Ergonomic grip
16 GB storage
Dynamically adjustable current for optimal sensitivity on every analysis
Large area drift detector
Mg to U element analytical range
Built-in standardization via automatic system check
IP54 rating
The advantages of using Niton XL5 Handheld XRF Analyzer
Earlier, we have gone through the list of this product description. With the two cameras, user profile customizes ability, and 100% clear navigation, here are the advantages of using Niton XL5 Handheld XRF Analyzer:
For metal fabricating: Thanks to Niton XL5 Handheld XRF Analyzer, the time taken to alloy grade and composition for various metal chemistry types can be reduced. The results are more rapid, with quality assurance and quality control processes improved. Another thing about this tool is that it gains more user confidence when it comes to risk management
For oil and gas.: This business requires a major safety concern. With Niton XL5 Handheld XRF Analyzer, compositions like reaction piping, valves, vesselsand can be verified quickly and more accurately. This handheld analyzer works wonders in inspecting corner welds and tight spots around the pipelines. This tool also helps to reduce operator fatigue.
For scrap metal recycling: As mentioned earlier, when it comes to scrap metal recycling, Niton XL5 Handheld XRF Analyzer works wonders, especially on a wider coverage of up to 30 elements and detecting some Alloy Mix-ups and contaminated materials.
Just like all Techno-Scientific, Niton XRF Analyzer, Niton XL5 Handheld XRF Analyzer gives you a lot of benefits. There are the proofs.
Price for the brand new Niton XL5 XRF is expensive, to save money please refer to the pre-owned Niton XL5 XRF, here is an excellent refurbished used Niton XL5 XRF for sale, perfect working order, fully shop tested and serviced by Thermo Scientific authorized, ready to working to analyze general metal and works flawlesly with Thermo Scientific working standards.