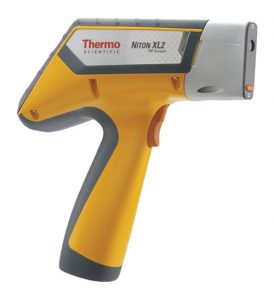 Niton XL2 XRF Analyzer
Get fast, accurate metal alloy verification for manufacturing quality assurance with the Thermo Scientific™ Niton XL2 Analyzer. Featuring a standard integrated camera for accurate positioning of the analysis area, the XL2 Analyzer provides immediate, nondestructive elemental analysis of alloy materials from titanium to nickel as well as tramp and trace element analysis. Lightweight, rugged handheld Niton XL2 Analyzers are well suited for a growing list of applications including scrap metal identification, mining and exploration, and lead screening for consumer and electronic goods.
With the value leading Niton XL2 XRF Analyzer, you don't have to sacrifice performance to get a lightweight, rugged, handheld analyzer perfectly matched for most testing applications.
Point and shoot simplicity- very easy to use even by nontechnical personnel.
Rugged design for real-world industrial environments.
Nondestructive analysis with near instantaneous results.
Sealed against moisture and dust.
Ergonomically designed.
Daylight-readable icons.
Standard analytical range of up to 30 elements from sulfur to uranium.
Color, touch-screen display.
Integrated camera
Connectivity
Standard Thermo Scientific Niton Data Transfer (NDT™) PC software suite allows you to set operator permissions, generate custom reports, print certificates of analysis, or remotely monitor, and operate the instrument hands-free from your PC.
Integrated USB and Bluetooth communications provide direct data transfer to your PC or networked storage device. Optional accessories include Bluetooth barcode reader, Bluetooth printer, and Bluetooth GPS.
Full specifications
Applications: Non-destructive elemental analysis of most metal alloys
Available Analytical Modes: Varies by application:

Alloy Modes: Metal Alloy, Electronics Alloy, Precious Metals
Bulk Modes: Mining, SoilPlastic Modes: RoHS Plastics, Toy and Consumer Goods Plastics,TestAll, Painted Products
Custom Modes: Upon request (based on application feasibility)

Data Memory: 64 MB internal system memory/128 MB internal user storage
Data Storage: Internal >10,000 readings with spectra
Data Transfer: USB, Bluetooth and RS-232 serial communication
Description: Niton XL2 XRF Analyzer
Detector Type: High-performance semiconductor
Display Type: Fixed angle, color, touch-screen display
Item Description: Niton XL2 XRF Analyzer
Height (English): 4 in.
Height (Metric): 100 mm
Length (English): 10.25 in.
Length (Metric): 256 mm
Width (English): 11 in.
Width (Metric): 275 mm
Optional Accessories: Portable test stand; Stationary (bench-top) stand; Mobile test stand; Welding mask; Soil testing guard
Power Consumption: 100µA
Security Features: Password-protected user security
Standard Accessories: Integrated camera; Locking shielded carrying case; Shielded belt holster; Two 6-cell lithium-ion battery packs; 110/220VAC battery charger/AC adaptor; PC connection cables (USB and RS-232); Thermo Scientific™ Niton Data Transfer (NDT™) PC software; Safety lanyard; Check samples/standards
Tube Type: Ag anode 45 kV maximum, 80µA maximum
Weight (English): 3.0 lb., 5.8 oz.
Weight (Metric): 1.53 kg
Voltage: 45 kV
System Electronics: 400 MHz ARM 11 CPU, 300 MHz dedicated DSP, 80 MHz ASICS DSP for signal processing
Data Entry: Touch-screen keyboard, user-programmable pick lists
Licensing: Varies by region. Contact your local distributor.
Dimensions (L x W x H): 10.25 x 11 x 4 in. (256 x 275 x 100 mm)
Certifications/Compliance: CE, RoHS
Unit Size: Each
The disadvantages of using Niton XL2 XRF Analyzer
The volatile commodity prices these days, everything needs to be done as quickly as possible. That is also the same case with sorting recycled metals. If it is done manually, it takes too much time. The possibility of human error may also occur in the sorting process. The effect of all those impacts on the profitability. Since those recycled metals are used as part of your industrial business, you may lose with your competitors. This business is tough, so there is almost no room for even a minor mistake. Everything has to be precise.
Niton XL2 XRF Analyzer has helped this metal industry to become better, faster, and more accurate. The only disadvantage it has is when people try to sort recycled metals manually again. They may struggle with accuracy and consistency, which will affect the quality of the products.
Alloys to analyze
With Niton XL2 XRF Analyzer rugged, handheld analyzer, these are the alloys that you can analyze with:
Stainless steels
Zirconium
Copper
Tool steels
Nickel
Low alloy steels
Titanium
Cobalt
Wrought aluminum
Ni/Co alloys
Other types of alloys, like: tantalum, hafnium, tungsten, and many more.)
Video demonstration Stainless Steel Analysis with Niton XL2 XRF Analyzer