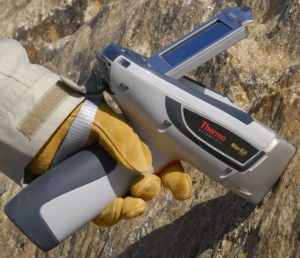 Niton XL3t GOLDD+ XRF Analyzer is a Thermo Scientific Niton electronic tool with high performance. It provides reliable, real-time data on metal alloys analysis almost instantaneously. Besides being super-fast, the results are also accurate. The process of extracting results does not involve helium purging and vacuum pumps.
What makes this testing application different fromNiton XL3p+ XRF Analyzer is the use of GOLDD. Short for "Geometrically-Optimized Large Area Drift Detector". This technology enhances the tool and works wonders for improved light element (like Mg – S) analysis. That is the lowest detection limits and quickest measurement times.
Niton XL3t GOLDD+ XRF Analyzer description:
As mentioned earlier, Niton XL3t GOLDD+ XRF Analyzer can detect light elements. Not only that, but it also delivers the results ten times faster than when you use the conventional Si-PIN detectors. Thanks to the GOLDD technology, this tool comes up with results three times faster than when you use the conventional SDD (silicon drift detectors). The features include:
A standard analytical range that goes as far as up to 30 elements, which are from Mg to U
The most powerful tube of the x-ray on the market. This is of course especially for handheld Niton XRF Analyzer
The point-and-shoot simplicity, even for those who are not from the technical background
A rugged, ergonomic design, which works for real-life industrial environments
100% seal to protect the tool from moisture and dust
Daylight, readable icons and color, touch-screen display
Multi-language options
Most importantly, it is lightweight
To catch up with the digital era, Niton XL3t GOLDD+ XRF Analyzer is equipped with integrated USB and Bluetooth communications. They provide direct data transfer straight to your PC or other networked storage devices. Regarding Bluetooth, there are three optional accessories: the barcode reader, the printer, and GPS.
Things you can do with Niton XL3t GOLDD+ XRF Analyzer:
Scrap metal recycling: This tool sorts bronze alloys, titanium, andaluminium. For trace element analysisandtramp, this tool is superior in high performances
Mining exploration:In mining exploration, this tool delivers fast, accurate light element analysis. It helps to identify anomalies found in the crust of the earth. Other things it facilitates include soil analysis and advanced exploration, lab analysis prequalification, concentrate measurements, or blending PMI (precious metal identification)
Environmental purposes: This tool detects contaminants, like sulphur and chlorine found in sediment or arsenic in the soil. Other types of environmental hazards (especially in industrial, commercial, and residentialareas) include toxic drywall.
Niton XL3t GOLDD+ XRF Analyzer has standard Thermo-Scientific Niton Data Transfer. In a PC software format, you can do these with Niton Data Transfer:
Setting operator permissions.
Generating custom reports.
Printing certificates of analysis.
Remotely monitoring and operating the hands-free instrument, straight from your PC or laptop.
Metal alloys to analyze with Niton XL3t GOLDD+ XRF Analyzer:
Stainless steels
Copper
Nickels
Titanium
Cobalt
Wrought aluminium
Low alloy steels
Ni/Co alloys
Tool steels
Zirconium
Chromium molybdenum steels
Tantalum, hafnium, and tungsten
Video demonstration of Niton XL3t GOLDD+ XRF Analyzer