Olympus Innov-X Delta XRF Analyzers for Elemental Analysis
The new generation DELTA handheld XRF analyzers are ergonomically advanced with a forward looking design incorporating the latest in electronics, components, and software technology. The DELTA X-act Count technology can provide even better sensitivity and precision in faster time for more materials than before.
Nondestructive DELTA handheld X-ray fluorescence analyzers provide decisive results to multiple industries with varied applications. Elements such as lead, mercury, arsenic, copper, gold, silver, platinum, and more are detectable in concentrations of parts per million (PPM) up to 100%, with little or no sample preparation requirements.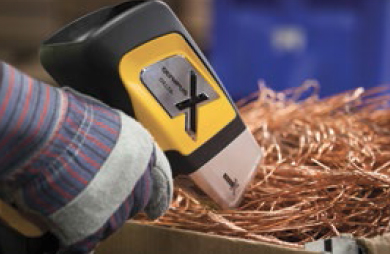 Scrap Sorting and Recycling
The DELTA scrap sorting handheld XRF provides reliable identification in 1 to 2 seconds for most alloy grades and pure metals. It is designed for durability — to withstand the toughest environments. It is ideal for checking a wide variety of materials including ferrous and non-ferrous metals, glass, and plastics in seconds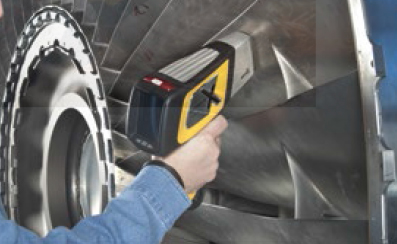 Alloy Positive Material Identification/QA/QC
The DELTA analytical and positive material inspection (PMI) analyzer is vital for quality control and assurance in the metal manufacturing and fabrication industries. It is used for compositional analysis and alloy grade identification, from critical components to raw materials to welds.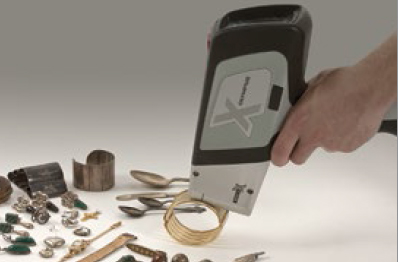 Jewelry / Precious Metals Identification
The DELTA provides fast, accurate alloy chemistry and karat classification with one nondestructive, non-intrusive test. Whether importing precious metals, selling or producing jewelry, or processing scrap metal, the DELTA is the ideal choice.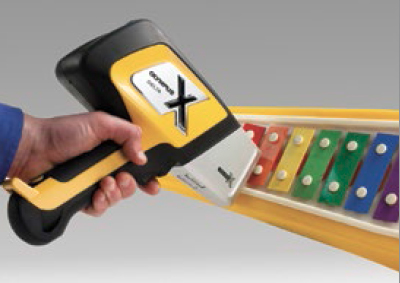 Regulatory and Safety Screening
The DELTA screens for pollutants and poisons such as lead, cadmium, chromium, mercury, arsenic and other toxic elements. It is used to help ensure safety and to help comply with global regulatory programs directed by the EPA, RoHS/WEEE EU Member States' Enforcement Bodies, CPSC, FDA, Border Patrol, and more.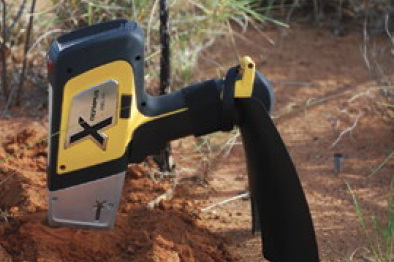 Geochemistry and Mining Exploration
The DELTA provides immediate results to help determine the next course of action throughout the entire mining process — exploration, grade/process control, and environmental sustainability. On-site detection of metals, minerals & contaminants, and GPS-GIS XRF for instant metal mapping ensures time and cost savings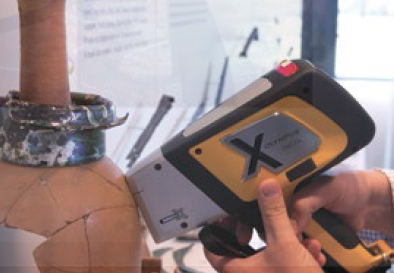 Research and Education
The DELTA adds an amazing dimension to research and education in the classroom and in the field. Its versatility and rapid response engage students, making the periodic table of elements and science come alive. Environmental, forensics, archaeology, and chemistry education benefit immediately.
X-ray Fluorescence Technology
The DELTA series analyzers are configured with powerful miniature X-ray tubes, Si-PIN detectors or highly advanced silicon drift detectors (SDD), specialized filters, and multibeam optimization for the ultimate in XRF field analysis. The DELTA's real overall value is to help make decisions in real time with minimal reliance on off-site laboratory testing
Thousands of units are in use worldwide, from show rooms and assembly lines to remote desert and arctic regions. DELTA handheld XRF analyzers are optimized to be responsive and effective to meet the needs of both economically and regulatory-driven businesses, from recycling, mining, and fabrication to environmental assessment and consumer product safety, and to scientific research and education.
Olympus Innov-X Delta XRF Series
| | | | |
| --- | --- | --- | --- |
| | | | |
| DELTA Premium | DELTA Professional | DELTA Classic Plus | DELTA Element |
| The Olympus DELTA Premium is equipped with powerful performance to handle the most analytically demanding applications. | The Olympus DELTA Professional provides the best value solution with superior performance in speed, LODs, and elemental range. | The Olympus DELTA Classic Plus provides quick ID, screening, sorting, and elemental metals analysis for a large variety of applications. | The Olympus DELTA Element is the entry-level DELTA, built for economy and fast ROI for basic alloy identification and metals analysis |
The Olympus INNOV-X Delta Premium XRF analyzer is ideal for ultra-quick, analytically demanding applications. It has a large area SDD and an optimized X-ray tube that provides high speed and excellent light element analysis in air.
Features include ultra-fast data acquisition for quick testing time, optimum element excitation, tight geometry, a floating-point processor that leverages extra advanced calibration algorithms, integrated Bluetooth, analysis indicator lights visible from 360 degrees, advanced colortouch LCD screen, energy-efficient for indoor as well as outdoor use, accelerometer technology, USB interface port for high-speed downloads and boosts productivity. Additional wide-area heat sinks feature for the high power use at extreme temperatures.
Specifications include 4W Rh, Au or Ta anode excitation source, 32-bit Color QVGA resolution, 1 GB microSD and operating temperature ranging from -10 to 50 degrees C. DELTA PC software is used to improve the data analysis, calibration modeling, and optional closed beam workstation operation. Suitable for applications such as analyzing trace levels and light elements in low alloy steel, soil, mining, and metallurgical samples. The system consists of an X-ray tube, Si-PIN diode detector, Ti or higher alloy, Olympus digital pulse processor (DPP), and data storage.
SPECIFICATION OVERVIEW:
Ultra-fast data acquisition for quick testing time
Optimum element excitation
Tight geometry
Floating-point processor that leverages extra advanced calibration algorithms
Integrated Bluetooth
Analysis indicator lights visible from 360 degrees
Advanced color touch LCD screen
Energy-efficient for indoor as well as outdoor use
Accelerometer technology
USB interface port for high-speed downloads and boosts productivity
Additional wide-area heat sinks feature for the high power use at extreme temperatures
Olympus Innov-X Delta XRF Product Line.pdf