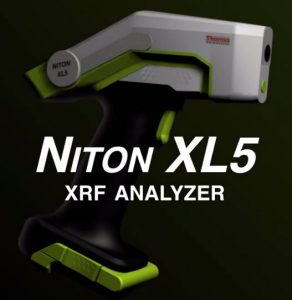 Niton XL5 Handheld XRF Analyzer is a testing application or electronic tool. It performs elemental analysis with versatility, functionality, and accurate precision. It identifies pure metal alloys and detects tramp elements. Another thing that it does is obtaining geochemical data. In other words, this is a versatile analyzer
Niton XL5 Handheld XRF Analyzer  description
With its ability to scan a broad range of materials, here is a list of what makes a Niton XL5 Handheld XRF Analyzer is a champion in real-life industrial environments:
Has 5W X-Ray Tube
The PLADD (Proprietary Large Area Drift Detector) when it comes to light elements. The light elements include Mg, AI, Si, P, S, and more
Its lightness and its rugged, ergonomic design
Its miniaturised nose
Its wifi-enabled connection (with the help of a USB and Bluetooth communication tools.)
Its two cameras (one is a micro, and another is a macro)
Its hot-swap battery
It's tilting, color touch-screen display
Other two things that give additional benefits to this tool are that it is password protected and certified with IP54. IP54-certified means that it is dust-proof and safe from any splash of liquid.
The Niton XL5 Handheld XRF Analyzer is applied with:
The non-destructive field of inspections for PMI (positive metal identification).
The point-and-shoot simplicity, even for anyone who is non-technical personnel. This helps them with scrap recycling business.
Thick layers of measurements for single or binary layers of metal.
Precious metal assay for specific materials, like jewelry and bullion.
The real-time, geochemical analysis. With enabled wifi connection, this type of analysis helps you to get the most accurate results from mining exploration – right now.
The on-site heavy metal screening. This is for screening polluted soils caused by metal or other potentially hazardous materials.
Custom-made demands. This means you can have Niton XL5 Handheld XRF Analyzer based on the specifics that you need.
The advantages of using Niton XL5 Handheld XRF Analyzer
Earlier, we have gone through the list of this product description. With the two cameras, user profile customizes ability, and 100% clear navigation, here are the advantages of using Niton XL5 Handheld XRF Analyzer:
For metal fabricating: Thanks to Niton XL5 Handheld XRF Analyzer, the time taken to alloy grade and composition for various metal chemistry types can be reduced. The results are more rapid, with quality assurance and quality control processes improved. Another thing about this tool is that it gains more user confidence when it comes to risk management
For oil and gas.: This business requires a major safety concern. With Niton XL5 Handheld XRF Analyzer, compositions like reaction piping, valves, vesselsand can be verified quickly and more accurately. This handheld analyzer works wonders in inspecting corner welds and tight spots around the pipelines. This tool also helps to reduce operator fatigue.
For scrap metal recycling: As mentioned earlier, when it comes to scrap metal recycling, Niton XL5 Handheld XRF Analyzer works wonders, especially on a wider coverage of up to 30 elements and detecting some Alloy Mix-ups and contaminated materials.
Just like all Techno-Scientific, Niton XRF Analyzer, Niton XL5 Handheld XRF Analyzer gives you a lot of benefits. There are the proofs.